Bob Eberly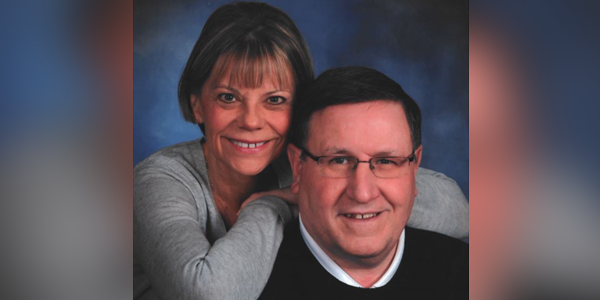 Bob Eberly graduated from St. Francis in 1968. He strongly believes in the motto, "be who you are and be that well" which he first heard in 1964 as a freshman. Along with providing a well-rounded Catholic education, Bob said the best thing St. Francis did for him is to introduce him to a great group of people. Not only has his class remained fairly strong, but he is amazed at the number of people he runs into that are graduates of St. Francis de Sales. Bob says, "almost without exception, we talk about our experiences at St. Francis, even if we graduated decades apart."
From his time at St. Francis until now, athletics has been a substantial part of Bob's life. As the past President of and currently a consultant for Team Sports, a team athletic supplier, Bob has had the opportunity to build many bridges with employees, athletic directors, community members, as well as loyal customers. At Team Sports, Bob leads by example; quietly, in an understated role. Bob feels it is important that a leader takes an active role, not just shout directions. Bob's approach, similar to St. Francis himself, is to lead in "an under-the-radar" way. He also appreciates the leadership skills he inadvertently learned while at St. Francis. Bob truly listens to his employees' ideas and is open when they have a better solution. This type of leadership has been proven effective by the success of Team Sports, as well as his marriage, family, and friendships.
As Bob began the process of retiring, he remembered his parents' advice, "you need to give back." This advice prompted Bob to reflect on his life and the experiences that positively impacted him. He decided he wanted to give back to the institutions that helped prepare him for life after completing his education, and he immediately considered St. Francis. As athletics has been a big part of Bob's life, he also feels it touches many students' lives, regardless if they play a varsity sport, because they will talk sports in one form or another. While Bob appreciates the importance of academics, leadership, and the individualized and hands-on learning experience provided by SFS, Bob does have a special place in his heart for athletics.
Bob and his wife, Carol, met with their financial planner to discuss their aspirations and goals so that they could determine the best approach for making a gift to St. Francis with the greatest impact. Life insurance was the vehicle that worked best for them. Annual gifts to the Foundation may be used by the school to cover the premium payments on the policy and keep that policy in force. Bob and Carol are entitled to a charitable deduction for their contribution. By making annual premium payments on his life insurance policy, regardless of the number of years he makes the payments, the gift to St. Francis will be there. Bob learned later in life that there is more than one way to accomplish your goals, but you need to be open to listening to the various options available to you. The same is true when considering your philanthropic goals. Bob and Carol's gift will establish the Bob and Carol Eberly Fund for Athletics. Distributions from the Fund will benefit the Athletic Department at St. Francis de Sales School.
As Bob said, "I think the future of St. Francis is very bright. It's all about leadership and having a group of dedicated Oblates as Fr. Olszewski and Fr. Rose bodes well for the future." St. Francis is a school where life-long friendships are made, and that is what Bob most values. By making this gift to St. Francis, Bob is building a bridge for generations of Knights to come where they will be able to receive an exceptional Catholic education, steeped in tradition while making friendships that will last a lifetime.