Cares Act & Ideas For Giving And Moving Forward In 2020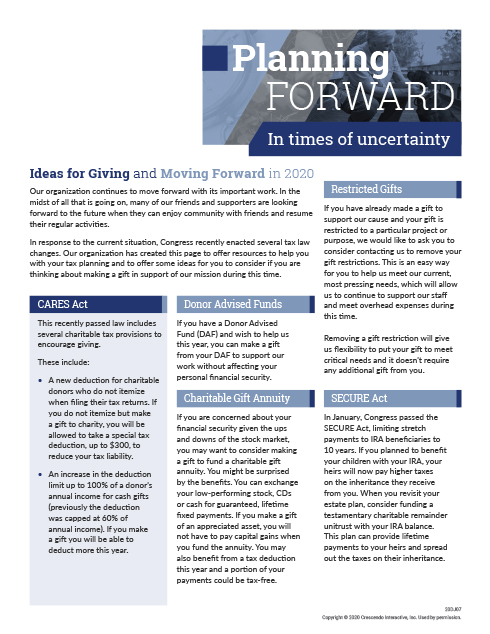 Download PDF
St. Francis de Sales School continues to move forward with our mission to educate Christian gentlemen. In this time of disruption, we are all looking forward to resuming normal activities with our friends, family, and community.
In response to the current situation, Congress recently enacted several tax law changes. We have created this page to offer resources to help you with your tax planning and philanthropic goals in support of our mission.
CARES ACT
On March 27, 2020, the Coronavirus Aid, Relief, and Economic Security Act (CARES), was signed into law. The law is intended to help individuals, nonprofits, businesses, and state and local governments with the economic hardships during the coronavirus pandemic.

Provisions of the CARES Act include charitable tax provisions that may influence your charitable goals and planning including: a charitable deduction of $300 for all taxpayers, modification of charitable deduction limitations, and the suspension of the required minimum distributions (RMDs).
$300 Above-The-Line Charitable Deduction

If you do not itemize but make a cash gift to a qualified charity, such as SFS, you will be allowed to take a special deduction of up to $300 for cash donations in calendar year 2020.


Modification of Charitable Deduction Limitations

If you do itemize, cash contributions to qualified charities may be deducted up to 100% of adjusted gross income for the 2020 calendar year, up from 60%. For corporations, the 10% limitation is increased to 25% of taxable income. The limitation on deductions for contributions of food inventory increases from 15% to 25%.


Required Minimum Distributions Suspended

The CARES Act suspends the requirements for required minimum distributions (RMDs) for the 2020 tax year from certain defined contribution plans and IRAs. This provision is intended to protect the retirement plans of individuals who may have experienced significant market values declines, which would be negatively impacted long-term by requiring a distribution.


Consider Why a Distribution from Your IRA May Still Be a Good Idea for You

If you are 70 ½ by the end of the calendar year, you are still able to make a qualified charitable distribution (QCD) from your IRA.



No Income Tax. Qualified charitable distributions (QCDs) from your IRA do not generate income or a tax deduction. So, you benefit even if you do not itemize.


Lower Medicare Premiums. There are no RMDs this year, so there is not the usual concern about the "required" increase in income that comes from an IRA distribution. This year, IRA owners may leave their IRAs untouched and not have to worry about an increase in income which could affect their social security taxation.


Commitment Payments. QCD distributions from your IRA may be used to make commitment payments which SFS is relying on to continue with previously planned projects and initiatives.


SFS will put your gift to use today and you will be able to see the benefits.
Donor Advised Funds
If you have a Donor Advised Fund (DAF) and wish to make a gift this year, you can make a gift from your DAF to SFS without affecting your personal, financial security.
Charitable Gift Annuity
If you are concerned about your financial security with the ups and downs of the stock market, you may want to consider a charitable gift annuity. You may exchange your low-performing stock, CDs or cash for guaranteed, lifetime fixed payments. If you make a gift of an appreciated asset, you will not have to pay capital gains when you fund the annuity. You may also benefit from a tax deduction this year and a portion of your payments could be tax-free.
SECURE Act
In December 2019, Congress passed the SECURE Act, limiting stretch payments to IRA beneficiaries to 10 years. If you planned to benefit your children with your IRA, your heirs may now pay higher taxes on the inheritance they receive from you. When you revisit your estate plan, consider funding a testamentary unitrust with your IRA balance. This plan can provide lifetime payments to your heirs and spread out the taxes on their inheritance.
Reflect on What is Important to You!
Our mission of educating Christian gentleman remains steadfast and your support makes it possible for us to fulfill our mission and change lives. Because of you, we are here today and will be stronger tomorrow.
If you are interested in learning more about any of these ideas or how they might work for you, please contact Renee Winkler at 419.214.5429 or rwinkler@sfsknights.org.